Description
Tanita BC-545 body composition monitor is based on the very latest technology and research in body composition monitoring. The monitor gives 5 Segmental Readings - one for each arm, leg and the trunk area. The user stands on four footplates on the platform of the scale and gently pulls the hand electrodes that are conveniently housed in the base using retractable connecting cables. The monitor will then send a safe low signal through the hand and footplate electrodes to the body. The resistance to the measurement (known as Bio-electrical Impedance Analysis or BIA) is then fed into researched equations to provide accurate and personalized body composition readings.
Designed for the dedicated sports and fitness person to assess the impact of any training routine on their total and segmental body composition, this totally unique product gives individual body composition readings for each of 5 body segments each arm, each leg and the trunk area. The retractable hand-grips allow full body composition to be taken quickly and with increased accuracy. A calendar function is included, and comparison graphs show a history for each segment of the body and for each of the body composition readings, so that the user can see their progress, day by day, week by week and month by month over a 3 year period. The backlit buttons and animated illustrations are clear and user-friendly, and the scales come with batteries included and a 3 year manufacturer guarantee.
Based on the principle of Bioelectrical impedance analysis (BIA)

The results are calculated based on the information programmed before use - gender, age, height and body type, user weight and user BIA.

Tanita BC-545 readings include - Weight only, Body Fat Percentage, Body Water %, Basal Metabolic Rate, Metabolic Age, Bone Mass, Muscle Mass, Physique Rating, and exclusive to Tanita Visceral Fat Rating.

Segmental Readings for 5 body areas -one for each arm, each leg and the trunk area

Athlete mode for those with bpm less than 60 and 10 hours exercise a week for most accurate results.

Includes exclusive healthy body fat ranges for children from 5 years

Physique Rating on Tanita Body Composition Monitors offers the user the opportunity to track physique during health/fitness programme

Daily graph, weekly graph for past 52 weeks and monthly graph for past 36 months for all the above readings with 4 user memories for data set up and history.

Calendar and Clock Function

Recall Function

Stores data for 4 users at a time for regular analysis.

Guest mode also available for one-off use where you don't want to save the data and the user readings.

Weight Capacity 150Kg

BMR and Metabolic Age Range 18 - 99
The Tanita BC545 Monitor will automatically compare your personal body fat reading to the Healthy Body Fat Range chart below.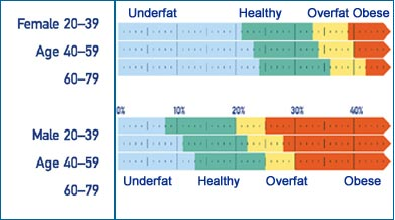 View All
Close
Warranty Information
Manufacturer's 3 Years Warranty
View All
Close